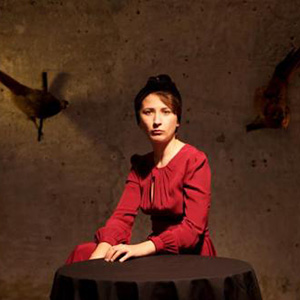 About Larisa Crunțeanu
Larisa Crunțeanu is an interdisciplinary artist working between research and speculation. Larisa Crunțeanu studied Photography and Moving Image and is a current PhD candidate at the National University of Arts, Bucharest.
Her practice as performer, video artist and sound collector moves from reality to fiction in an endless conversation with the viewer. Larisa Crunțeanu's works create contexts in which facts and memories are reactivated, encouraging a shared effort and the emergence of new practices. Many of her projects reflect on the notion of collaboration and the ideas existing behind objects and stories.
Read more: https://ancapoterasu.com/gallery-artists/larisa-crunteanu/larisa-crunteanu-cv/
Larisa Crunțeanu / Keep Forgetting To Forget Me, Spinnerei Leipzig at Anca Poterasu Gallery, 2019
70 years ago Simone de Beauvoir wrote in her seminal book Le Deuxième Sexe, "One is not born, but rather becomes, a woman." Women, de Beauvoir states, have been turned into "the other" by men. Man is posited as the absolute, the subject, while woman is assigned the role of the other, the object. SHE is always defined depending on a HE and thus struggling with an existential conflict: embracing a passive "feminine" role or her own agency.
A similar feeling of alienation is tangible in Larisa Crunțeanu's exhibition Keep Forgetting to Forget Me. Female identity is something that doesn't come natural, it needs to be tested, rehearsed and performed. This is the artist's way of looking, navigating and imagining (future) conditions of life through a feminist lens. She has turned the exhibition into a space where common boundaries are being re-negotiated: a place of indefinability and brittle identities, where even skin, the first boundary between oneself and the external world, seems permeable.
The characters who populate the space are never clearly identifiable. They are transforming, developing or disintegrating, are camouflaged, or exist only as a trail, an empty hollow where once there was a hand. They are each in a state of flux, either a becoming or a having-been, but never present in a solid, realized state of being. Crunțeanu creates a moment of haziness, of ambiguity and vagueness. The exhibition space is no longer a physical place, but turned into a state of consciousness – sombre, hovering between darkness and light.
Keep Forgetting to Forget Me; "me" not "myself", as Crunțeanu is not referring back to her own person – even though she is performing all the female identities in the exhibition ¬– but rather to a reservoir of uncertainty regarding the subject, who is performing the forgetting. The exhibition brings together five existing works (between 2013-2018/19) by Larisa Crunțeanu, as well as a joint collaboration with artist Sonja Hornung (2015).
The cultural project "Keep Forgetting To Forget Me" is co-financed by the National Cultural Fund Administration (AFCN). It does not necessarily represent the position of AFCN. The AFCN is not responsible for the content of the project or the manner in which the results of the project may be used. These are entirely the responsibility of the funding recipient.
ARAC is a non-profit organization founded in June 2012, in order to produce and promote contemporary art in Romania and abroad. The initiative of the 58 Plantelor Residency belongs to Anca Poterasu, gallerist and ARAC President. The first edition of the Residency took place in 2015 and it was financed through a grant offered by Norway, Iceland, Liechtenstein and the Romanian Government.