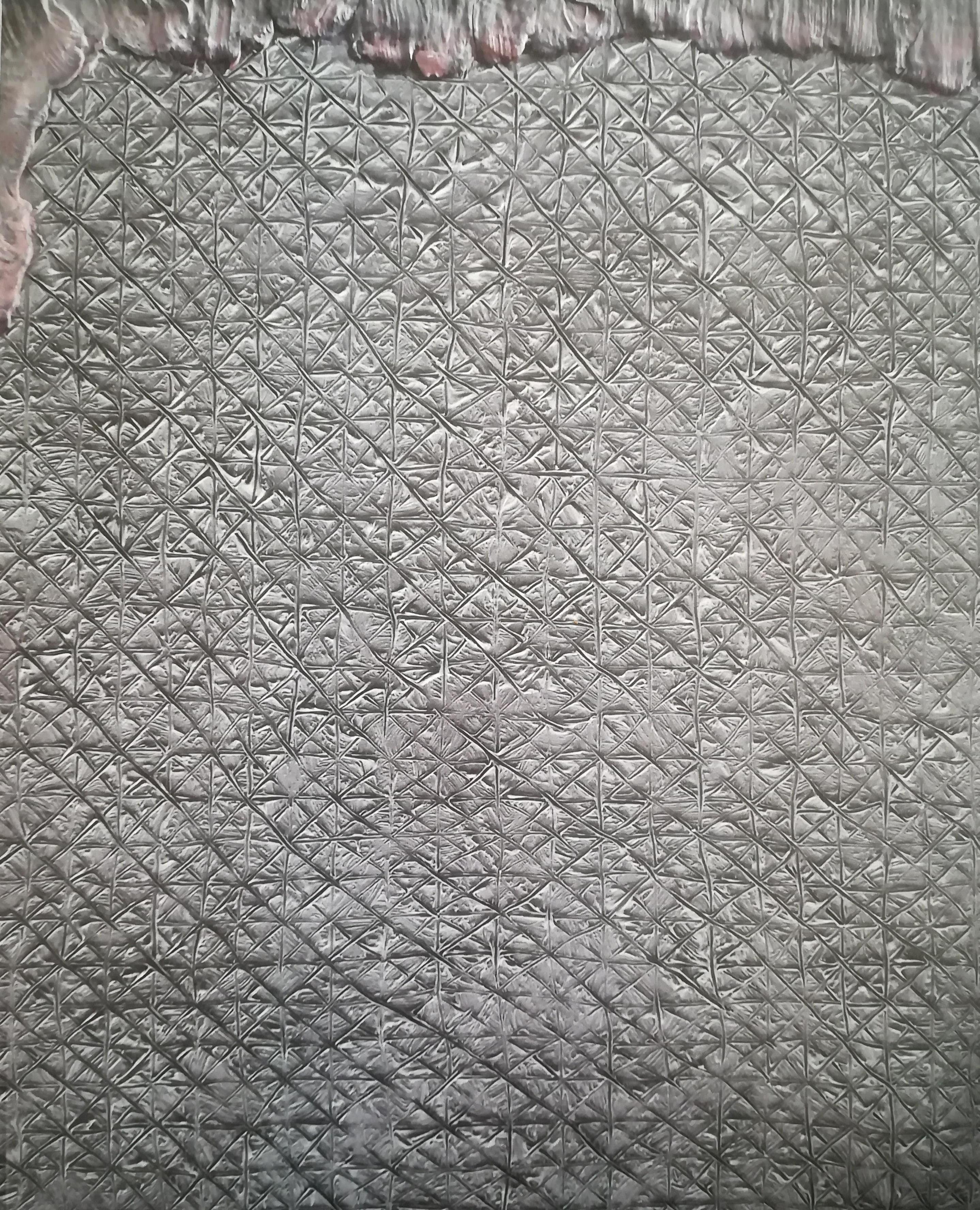 RÓBERT KÖTELES, Artist Catalogue
Texts by: Adrian Bojenoiu
Proof editing: Sandra Watt
English translation: Sandra Watt
Project coordination: Anca Poterașu
Photo Credits: Alexandru Paul, Adrian Bojenoiu, Róbert Köteles
Pre-press: New Folder
Concept and Graphic Design: Corina Gabriela Duma
Cover paper: Mat 350g/mp
Interior paper: mat 150g – Garda Matt
Cover image: Transformater, 2016
Typeface: Fira Family by Erik Spikermann
Printed: Masterprint Super Offset, Bucharest
Circulation: 750 Bucharest, 2016 ISBN 973 -0-23057-4978
Published by ARAC in collaboration with Club ElectroPutere
View book
About RÓBERT KÖTELES
Radically counterpointing the figurative movement, Róbert Köteles is one of those artists who revisits and persists in working with non¬figurative painting. Since early on in his career, Róbert Köteles has started working with a filigreed weaving called "Clipa", a virtually untranslatable term from Romanian, meaning "still moment"; it relates to both time and space, both active in a pregnant state of new shapes and moments that start diverging, colliding and ultimately shaping our reality. The artist continuously and obsessively tests this state of matter that exists underneath the surface of our perception. So thorough is his search, so unrelenting is the urgency of his artworks, that while he seizes "Clipa" in intricate geometrical webbings, so does "Clipa" seize him in its endless possibilities of genesis.
READ MORE: https://ancapoterasu.com/robert-koteles/cv
RÓBERT KÖTELES, Artist Catalogue, Published by ARAC in collaboration with Club ElectroPutere, 2016
Köteles Róbert in dialog with Adrian Bojenoiu, extract from RÓBERT KÖTELES, Artist Catalogue
AB – What was your solution to illustrate this vibrating image of the densities?
RK – At the time, I used ink and paper. Black ink and white paper are the two poles that gave the work its vibration, its pulsation. I wanted to somehow replicate the first starting point from which everything can be created, go to the roots that is to the seed – this is why I chose the white and the black. The first work was a hundred and twenty centimetres on eighty. I remember having worked at it for three days and, in the end, it seemed that the entire surface of the work was pulsating which gave me the experience of a discovery. It was monotonous and it seemed hard, difficult to contain, precisely because it was too vibrant, to… well, it required too much attention, focus etc. It was only after finishing that I realised that, when you look at the image, some areas are more highlighted,while others less. When blending black and white you get a field of very rich and different grays, and these differences were regarded as possible materialities. There were areas in the work where you got the feeling of fluidity, like when you see a small stream creating tiny ripples in its flow but, at the same time, in other parts of the work you sensed more toughness, a different type of matter which was obviously not a certain matter but it made me think of materialness. It felt interesting that I created this work that included such a multitude of possibilities or materialities. In that moment I sensed that I drew quite close to the seed, the root I was talking about.
ARAC is a non-profit organization founded in June 2012, in order to produce and promote contemporary art in Romania and abroad. The initiative of the 58 Plantelor Residency belongs to Anca Poterasu, gallerist and ARAC President. The first edition of the Residency took place in 2015 and it was financed through a grant offered by Norway, Iceland, Liechtenstein and the Romanian Government.